BLACK WEEK SPECIAL at RECARO Gaming
Black Week Special on all colors of the RECARO Exo FX:
Save 300 Euro & get a cleaning kit for free!
Our Black Week Special starts a bit earlier this November. This year, there's a whopping 300 euros off, and that's on all four color variants of the RECARO Exo FX. On top of that, you get our cleaning set worth plus 39.95 euros for free per order!
Offer period: 16.11.2022 to 30.11.2022 or while stocks last!
More information about the action
Offer price for all RECARO Exo FX - 300 Euro discount
The RECARO Exo FX is ideally suited for use as a gaming chair, in the office or in the home office. Our seat is certified by TÜV Rheinland as an office work chair, it also bears the GS seal for tested safety and is Made in Germany. Seats of the Exo family have been awarded top ratings by the press several times and stand for ideal performance, ergonomics and high-quality design.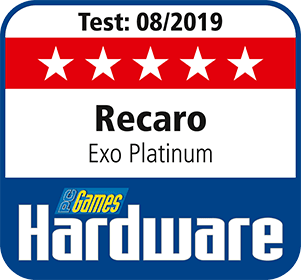 Free cleaning kit and five-year warranty on top
Now there is the opportunity to save a whopping 300 euros when buying a RECARO Exo FX - only in the RECARO Gaming Online store available. The offer* runs from 16.11.2022 to 30.11.2022 or while stocks last. But that's not all: anyone who buys during the offer period will receive our new cleaning kit for free, even when buying Exo, Exo Platinum or Rae Essential seats. To back this up, we are now offering a five-year warranty on all of our seats from RECARO Gaming.
The new cleaning kit comes with a surface and upholstery cleaner, a microfiber cloth and a cleaning sponge. The agents can be used to clean and maintain both the high-quality and environmentally friendly fabrics of our seats, as well as the plastic and aluminum elements. The treatment with the care products gives the components an antistatic effect and a renewed and improved surface sealing against dust and water, also an odor neutralization takes place.
Never has the purchase of a RECARO Exo FX more worthwhile than this November!
*Theoffer is valid exclusively in the online store of RECARO Gaming under www.recaro-gaming.com and only in the period from 16.11.2022 to 30.11.2022 or while stocks last. Black Week discounts cannot be combined with other coupons / promotions.
RECARO EXO
The best
backing for
your top performAnce