An ergonomic seating experience
Whether as a gaming chair or office chair in your home office, the RECARO Rae offers you a perfect, ergonomic seating experience, and provides optimal support for your back and individual posture. In your everyday life, you can either choose from five preset seat positions offered by the RECARO synchronous mechanism—or enjoy the dynamic flow of movement. Integrated lumbar support consistently ensures an ergonomically correct and relieving posture by providing optimal support for the lumbar area.
RECARO Rae: You've never sat like this before.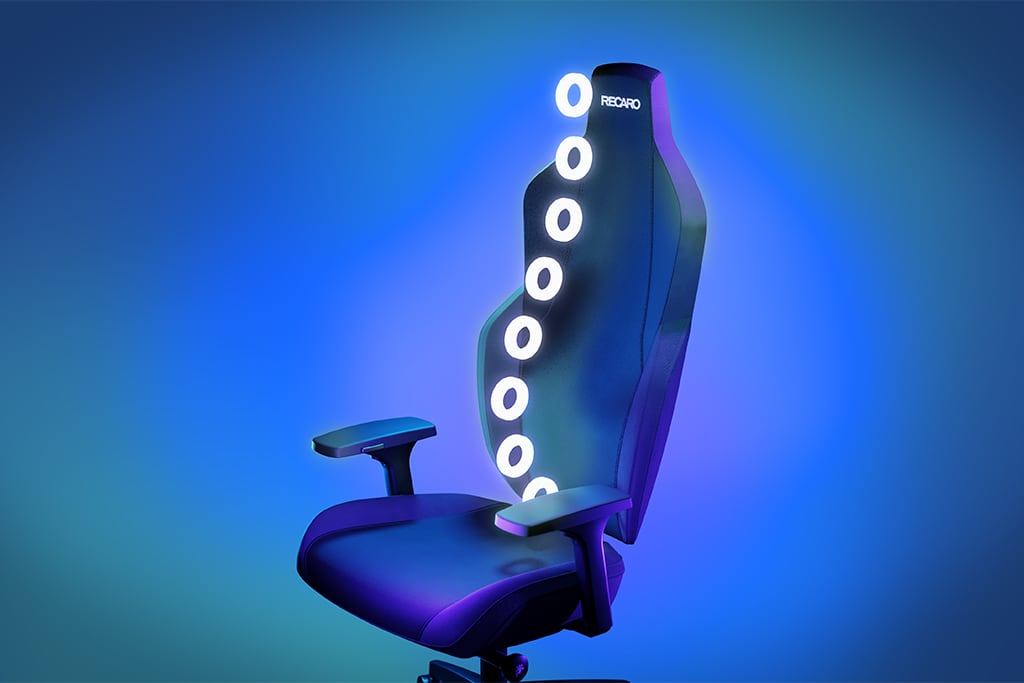 Optimal contours: The perfect posture every time
The ergonomic seat contouring of RECARO Rae, the result of extensive scientific testing and analysis of sitting postures, provides your body with optimal support in any playing or working situation.
Integrated lumbar support
You cannot imagine a car seat without it these days, and it is equally essential for a healthy sitting experience in modern seating concepts in the home. Lumbar support is crucial, especially when assuming an upright sitting position. The backrest of the Rae is contoured at the lower back so that the pelvis is straightened and the spine assumes an ergonomically correct position. Lumbar support contributes significantly to preventing muscle fatigue, especially during long sessions, and to maintaining a correct posture. This means you can always deliver your best performance.
Anti-submarining hump
The ergonomic support integrated into the seat cushion ensures that the ischial tuberosities are held in the correct position and the pelvis doesn't slide forward in the seat.
This means that the back is always well supported against the backrest. Anti-slip fabrics enhance this important function.
High-quality synchronous mechanism
Our new gaming chair utilizes a high-quality synchronous mechanism. It allows the backrest and chair to move synchronously with the body movement in a ratio of 2:1, automatically promoting dynamic, ergonomic, and healthy sitting. Just lean back and let the synchronous mechanism do the work.
In addition to our synchronous mechanism, there are also five fixed chair positions for full focus and performance when playing and working.
Regular adjustment of the chair position as well as the fixed setting of your favorite chair position are possible at any time in just a few simple steps.
Premium padding
To provide you with the perfect support, we have developed a seat cushion that effectively prevents the development of pressure points thanks to its ergonomic foam geometry. The specifically designed and dimensionally stable multi-zone foam ensures a pleasant distribution of seat pressure and promotes a consistently good seating experience.