RECARO GAMING CHAIRS
Obsessed with performance
Excellent RECARO quality for home. Get back with the RECARO Gaming chairs Made in Germany - for top performance not only when gaming.
PURCHASE ONLINE
PERFORMANCE FOR YOUR HOME
Order high performance directly to your home. Performance gaming chairs & accessories.
The new Porsche x RECARO Gaming Chair
Limited Edition. Available for order now!
RECARO RAE
Suits your Lifestyle
Hours of gaming sessions with the clan or long workshops via video call. The RECARO Rae adapts perfectly to your needs and is the chair for every situation.
Recaro Exo
Boosts your performance
Design meets engineering for your top performance. The result of more than two years of research and decades of automotive experience is RECARO Exo.
Excellence at PLAY (& WORK)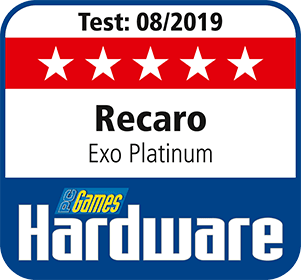 The best gaming chairs
5 things that your gaming chair must bring with it
Neck support
COMFORTABLE SUPPORT
High-performance starts in a focused head and relaxed neck.
RECARO Design DNA
Style is not a coincidence
Essentials ergonomics and optimal function paired with clear, appealing design from motorsport.
Cleaning set from RECARO
Suitable for all RECARO Gaming-chairs suitable.
Therefore RECARO
Online Shop
This distinguishes the RECARO Gaming-chairs
For the RECARO Exo and RECARO Rae, we have combined ergonomics with the unique demands of gamers. Our decades of experience with chairs of all kinds have gone into the choice of materials, design and features . This includes the seat shell on the Exo, which is unique for gaming chairs. Breathable and particularly environmentally friendly fabrics instead of artificial leather and premium upholstery foam from the racing sector ensure comfort at the highest level. Our gaming chairs are suitable for almost all sizes and are designed for a weight of up to 150 kg. Thanks to the innovative 5D armrest on the Exo FX and Exo Platinum, our Gaming Seat is the first choice not only for PC gamers, but also for console gamers.
All models of the Exo are tested and certified according to DIN EN 1335 standard, Made in Germany and bear the GS seal. The TÜV certification as an office chair and award with the German Design Award also make the RECARO Exo the ideal office chair in the home office. All models of RECARO Rae are also Made in Germany and have undergone extensive testing for safety, stability, comfort and quality.
Three different models of the RECARO Exo are available for purchase in our online store. The RECARO Exo FX and RECARO Exo Platinum offer special armrests with additional adjustment options. Both models are rounded off with a high-quality aluminum base. The newest addition is the RECARO Rae in the Essential and Bright versions.