RECARO EXO
FOR LONG-LASTING
PERFORMANCE
FROM KICKOFF
TO LIFTOFF
RECARO EXO
boOST YOUR PERFORMANCE
Experience the new generation gaming chair.
Iconic design meets unforgettable seating experience - for absolute top performance.
The first level
RECARO Exo
Unique seat shell
Breathable materials
Four adjustable basic positions
Individually configurable backrest
Integrated lumbar support
Anti-submarining hump
Cold foam from the world of motorsports
4D armrest with padding
Fiberglass-reinforced plastic base
Load capacity up to max. 150kg
The upgrade
RECARO Exo FX
All features from the Exo Collection + the following upgrades
+ Innovative 5D armrest with aluminium carrier
+ High-quality light metal aluminium foot support
The maximum level
RECARO Exo Platinum
All features from the Exo Collection + the following upgrades
+ Special rollers made of reinforced copolymer
+ Mesh fabric accents
+ High-quality breathable fabrics in the composite
+ Seat shell in off-white or Pure Black
Exo Collection
Exo FX Collection
Exo Platinum Collection
Working at a desk for long periods of time is just as much a part of my job as taking photos. In my Recaro, even hours of retouching are no problem.
For decades, RECARO has been building great seats for aviation and racing. With the Exo, this quality is finally coming to your home.
Unrivaled comfort from the race track to your gaming setup - so you can really go full throttle anywhere.
Excellence at PLAY (and WORK)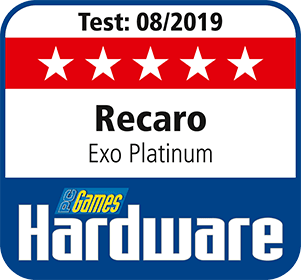 With RECARO mechanics, breathable fabrics, and high-quality components, the Exo is the seat that takes your performance to the next level for both gaming and work.
Optimized ergonomics
from the expert
The special seat shell combines the best elements from the automotive sector with the gaming market.
Breathable upholstery foam
like in a sports car
For the high-quality upholstery foam, we draw on our decades of experience in the automotive sector and combine it with breathable fabrics.
Perfect overview at any time
The seat height of the RECARO Exo is fully adjustable to your desired seat height at any time. This makes the seat suitable for gamers of almost any height.
In addition, you can adjust the spring force of the swing function. There is a special rotary wheel on the right-hand side beneath the RECARO Exo for this purpose.
"Attack" and "Relax"
are preprogrammed.
Four preset seating positions "Attack", "Core Focus", "Core Relax" and "Recharge" allow you to adjust directly to what you need from your chair at any given moment.
Relief for the back.
Focus for the head.
The specially designed backrest includes a fixed lumbar support. This makes your sitting position more upright and allows you to put your full focus on the screen instead of your posture.
4D or 5D armrest fancy?
Our basic Exo model features versatile 4D armrests that allow you to customize your playing posture and take the strain off your arms. From the RECARO Exo FX and Exo Platinum you can enjoy the innovative 5D armrests. These can also be rotated 360 degrees and provide even more space when playing.
RECARO EXO
The best
backing for
your top performAnce